Drug-less ADHD Relief at Barrhaven Family Chiropractic
Trained by World-Renowned ADHD Expert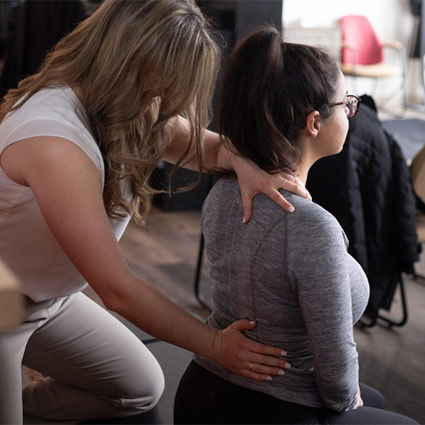 Our practice now offers a holistic approach to help people manage the challenges associated with ADHD. Barrhaven Family Chiropractic is a certified "SHINE for Doctors: Special Help for Integrating Neurological Experience" practice that combines ADHD Expertise, chiropractic alignment, neurological assessment with exercise and nutrition counselling.
Those With ADHD Can Accomplish Extraordinary Successes
ADHD is typically characterized by impulsivity, inattentiveness, and hyperactivity- characteristics that make it hard for those with this trait to reach their highest potential. Dr. Hallowell considers ADHD to be a trait, not a disability. When managed effectively, those with ADHD have accomplished extraordinary successes, but if undiagnosed or untreated, ADHD can wreck lives.
Dr. Hallowell says that having ADHD is like having a Ferrari engine, with bicycle brakes. In keeping with this analogy,
Dr. Kahlid Mankal
says "We teach children and adults with ADHD to strengthen their "brakes" while also giving their bodies and "engines" a tune-up. Medication is not the only answer."
A Holistic Approach
Recent studies indicate that the use of medication to help manage ADHD is on the rise, however, many people with ADHD prefer a holistic, alternative approach and are already familiar with Dr. Hallowell and his NY Times bestselling book, Delivered from Distraction. We combine Dr. Hallowell's strength-based approach by first identifying the unique gifts inherent in everyone, and then tailoring their proven chiropractic techniques to help the person with ADHD achieve their full potential.
About Edward Hallowell, M.D
Edward Hallowell, M.D. is a child and adult psychiatrist, NY Times bestselling author, world-renowned speaker and leading authority in the field of ADHD.
He was a faculty member at Harvard Medical School for over 30 years, graduated from Harvard College and Tulane School of Medicine, and is the founder of the Hallowell Centres for Cognitive and Emotional Health in Sudbury, MA and New York City. He has been featured on Dr. Oz, Oprah, Good Morning America and interviewed for the New York Times, Newsweek, Time Magazine, and many other publications.
See How We Can Help
Barrhaven Family Chiropractic offers pediatric and chiropractic care that focuses on neuroStructural correction, but also offers wellness based care which can help to improve your overall health and prevent future problems from occurring. Contact us today and find out how we can help you achieve your health goals!
CONTACT US »
---
Drug-less ADHD Relief Barrhaven ON | (613) 823-7900