Cold Laser Therapy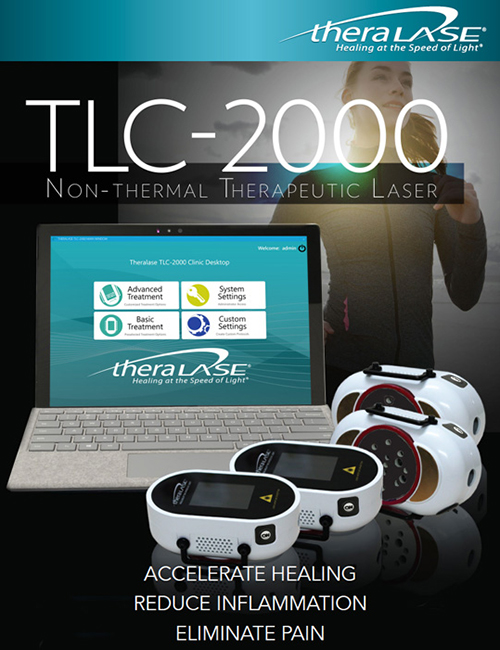 When I injured my knee meniscus 15 years ago, cold laser was a big part of my healing journey and I believe it saved me from surgery. We have added this to our practice to help more people. Light Speed Healing with Theralase laser has 3 main benefits,
Decrease pain.
Reduce inflammation.
Accelerate healing.
Benefits of using Theralase laser treatments:
Rapid Cell Growth
Accelerates cellular reproduction and growth.
Faster Wound Healing
Stimulates fibroblast development and accelerates collagen synthesis in damaged tissue.
Anti-inflammation action
Reduces swelling caused by bruising or inflammation of joints to provide enhanced joint mobility.
Reduced fibrous Tissue formation.
Reduces the formation of scar tissue following tissue damage from cuts, scratches, burns or post surgery.
Increased metabolic activity.
Produces higher outputs of specific enzymes, greater oxygen and food particle loads for blood cells and thus greater production from the basic food source for cells (ATP)
Increased Vascular Activity
Induces temporary vasodilation increasing blood flow to damaged areas.
Stimulated nerve function
Speeds up the process of nerve cell reconnection to bring the numb areas or "dead limbs" caused by slow recovery of nerve function in damaged tissue back to life.

---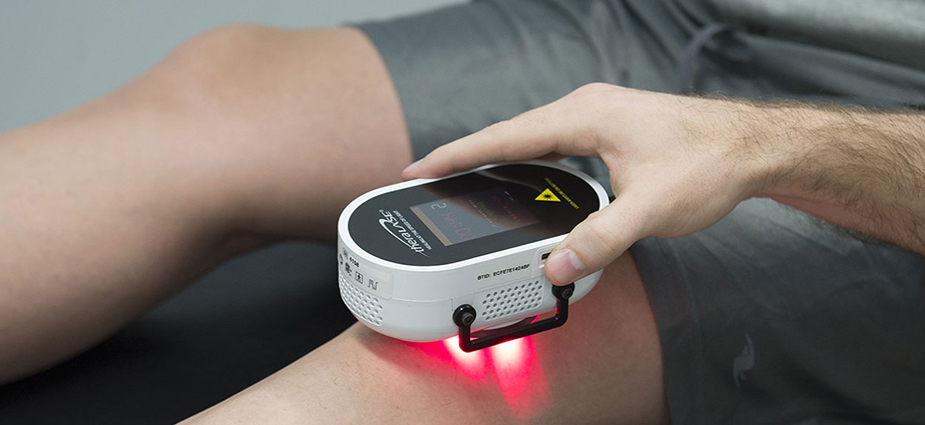 Treatable conditions
Over 80 clinically proven pre-programmed conditions:
Neck arthritis
Migraines/ headaches
Tendinitis/strains
Arthritis
Tennis/ golfer elbow
Intercostal pain
Hip pain
Wounds
Ankle sprain
Plantar Fasciitis
Knee pain/ ligaments
Diabetic neuropathy
Synovitis/ capsulitis
Achilles tendinitis
Sciatica
Carpal tunnel
Lower back pain
Rotator cuff
Shoulder pain
Theralase lasers work by supplying the body with billions of photons of light at very specific wavelengths. The body absorbs this laser light on a cellular level and transforms it into a chemical energy, which the body then naturally uses to repair its own tissue. The bio-stimulating effect of laser therapy causes decreases in both pain and inflammation, and an increase in tissue regeneration and accelerated healing.
Theralase Laser activate all three known cellular pathways.
Accelerate healing, 660nm- ATP pathway (increases ATP production) Reduce inflammation, 905 nm- nitric oxide pathway (increases nitric oxide levels by 700% Eliminate pain , 905 nm lipid absorption pathway (rebalance the Na+/K+ pump eliminating pain signals at the source Laser can help speed up many sports injuries in athletes and help them return to to play faster.

---
Testimonials
As a professional athlete I have tried many treatments over the years to help me recover from injury. In my first week using Theralase I noticed immediate relief to my injured left foot; the result was unlike any laser I had used in the past. In my line of work injuries happen and Theralase is designed to speed up my body's own healing to get me off the sidelines and back to the track quickly. Perdita Felicien former T&F world champion
I use the Theralase laser to keep my throwing arm healthy. It reduces fatigue and allows me to play at my peak, game after game. Roy Halliday former Blue jays Pitcher
I had withdrawn from the Rogers Master in Montreal due to a severe abdominal muscle strain. For the next 2 weeks, I had 2 laser treatments a day which accelerated the tissue healing and reduced the pain. In the next 2 tournaments I was runner up in the western and southern finical group master's at Cincinnati and I then clinched the Pilot Pen Tennis in New Haven. Theralase laser treatments were very helpful in accelerating my recovery time. James Blake former number 14 ranked tennis player in the world
FAQ
NO. There are 2 general types of medical lasers. Heat generating lasers which cut through tissue and damage tissue and non thermal lasers which Theralase laser is apart of. This type of laser stimulates repair, reduces inflammation, and eliminate pain.
No. Theralase lasers and class 3B laser which are used specifically for tissue stimulation and not strong enough to damage cells. Unlike class 4 lasers, Theralase laser produce no heat and do not cut tissue.
Yes. Theralase laser therapy is safe, effective, and painless, with results which are often immediate with no side effects. Efficacy rates in excess of 90% are routinely achieved.
When light interacts with tissue it causes certain photochemical reaction to occur and stimulate natural biological healing processes, thus transforming light energy into chemical energy.
How long does the therapy take?
Treatment time will vary from as little as 2 minutes to 20 minutes per session, depending on the condition treated and its severity. Your healthcare professional will advise how many treatments you need. Many patients see excellent results and may occur in just a few treatments,or can take between 4-6wks. Contact our office and schedule an assessment to see if you are a candidate for laser therapy. We look forward to meeting you.
---
Cold Laser Therapy Barrhaven ON | Barrhaven Family Chiropractic